Older members may remember that I started putting together FoW-style forces from 1:72 plastics.
Everything till now is in my blog/forum/thingy:
http://gungnirsstuff.messageboard.nl/fo ... m.php?f=36
Here are the two latest additions.
This little jewel is from Zvezda's pocket change priced boxes, meant as expansions for their Art of Tactic game.
The gun itself consists out of only a few parts, but obviously they suffice in creating an effective model.
The two crew members are nor the best detailed I've ever seen, but more than adequate. They consist out of 4 pieces each, allowing for a very life-like pose, as is especially clear with the man peering into the Richtschützbediengerät. The uniforms are early war.
The base has a hole for the markers that go with the game, but can easily be filled in, or used for a tree, for instance.
Nice bit of fire power for the 1939-'41 German infantry, and I will definitely try to get a few more.
------
Last month I bought a bunch of plastic Soldier Company stuff at the Antwerp Crisis wargames show. I was happy to get it, I saw a lot of favorable reviews and I've yet to find a supplier in the Netherlands.
The T-70 tanks come 3 to a box.
They can be modeled with one or both hatches open, crew is included. For the first one I decided to do a buttoned up one.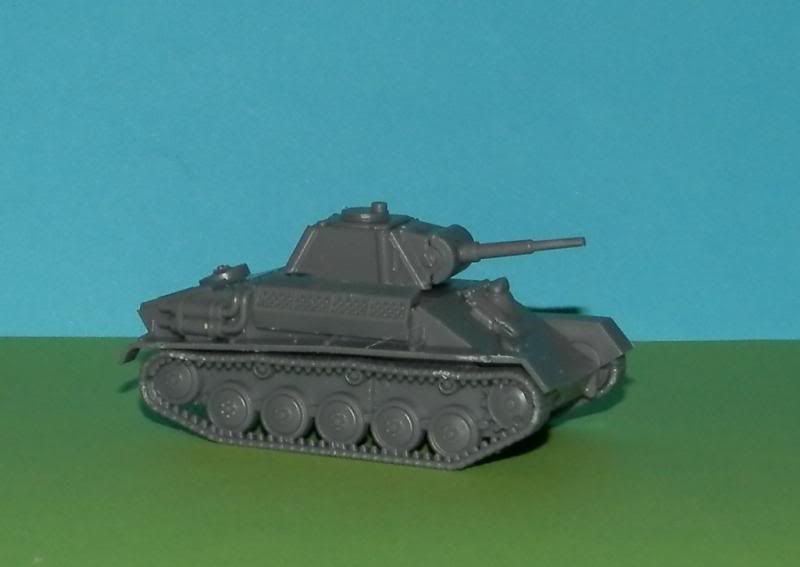 It's a very easy and straight forward model, but with still plenty of detail. I was especially impressed with the three part track/roadwheels sections, a nice middle ground between a one piece unit and one with a handfull of separate wheels and a soft plastic track.
An easy build, good fit of all parts.