Nothing new here, but wanted to keep it all together:
Here is the Old Guard portion anyway. I am currently working on the Gendarmes, with the Young Guard Chasseurs, Dragoons and Grenadiers, Guard d'Honneur and maybe even a small unit of Eclaireurs in the future. Here you see the Chasseurs, Dragoons, Grenadiers, Polish Lancers, Red Lancers and Berg Lancers, two HABs and the command. Most are 40 figure regts. The Chasseurs are 48 and the Berg regt only 18. Not great pics I am afraid, but you get the drift.
The whole bunch

starting left to right, the Polish Lancers and Chasseurs: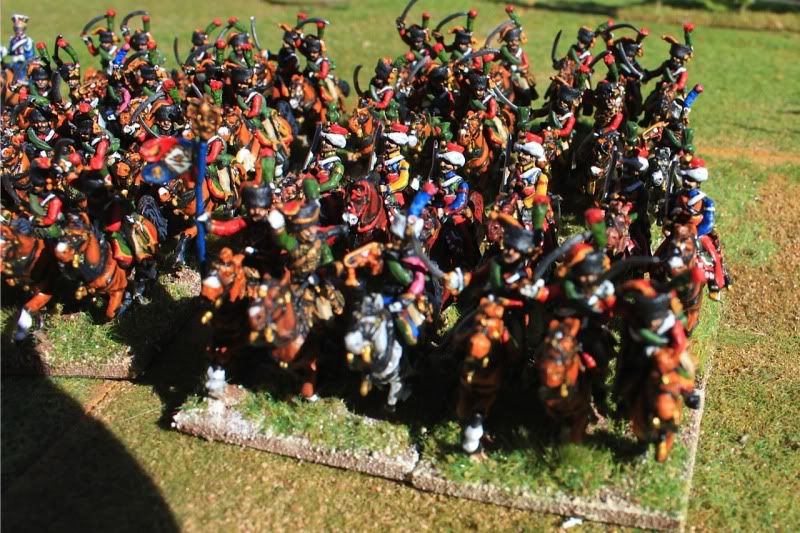 Red Lancers and Berg Lancers: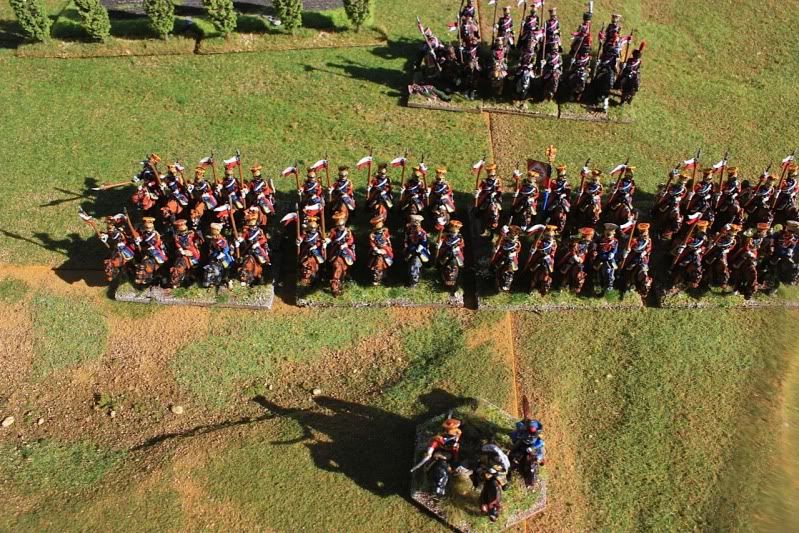 The heavies and HAB in support: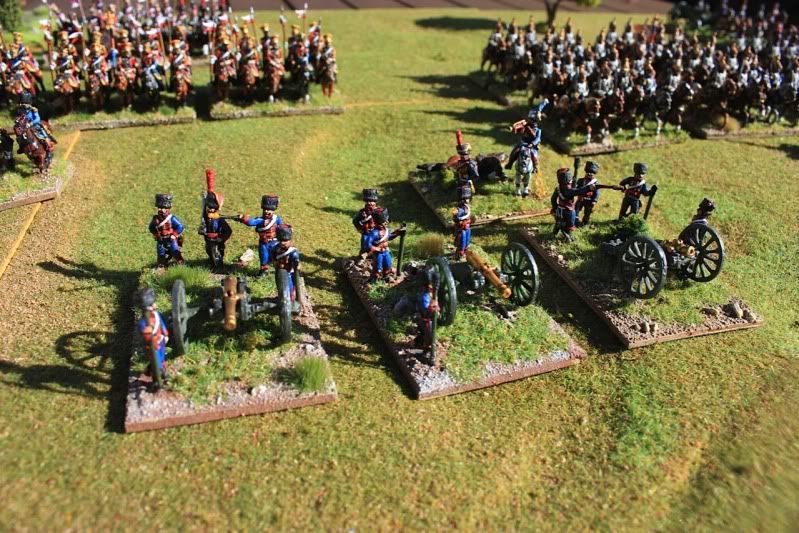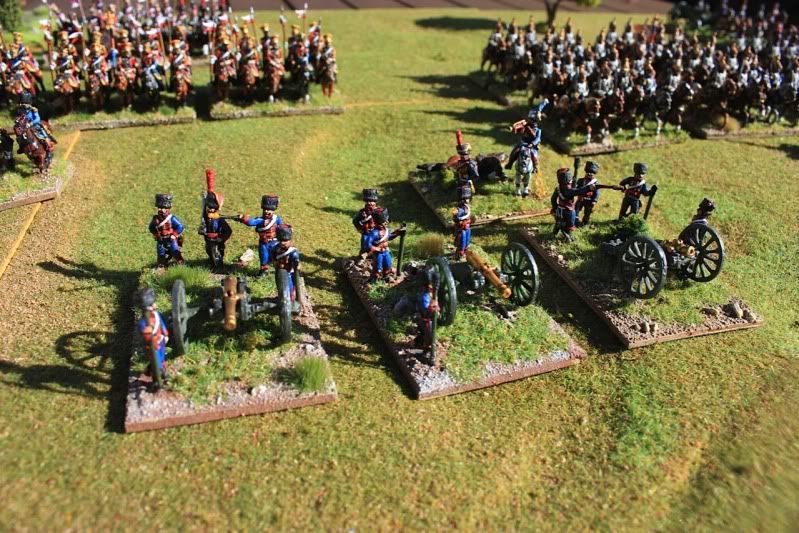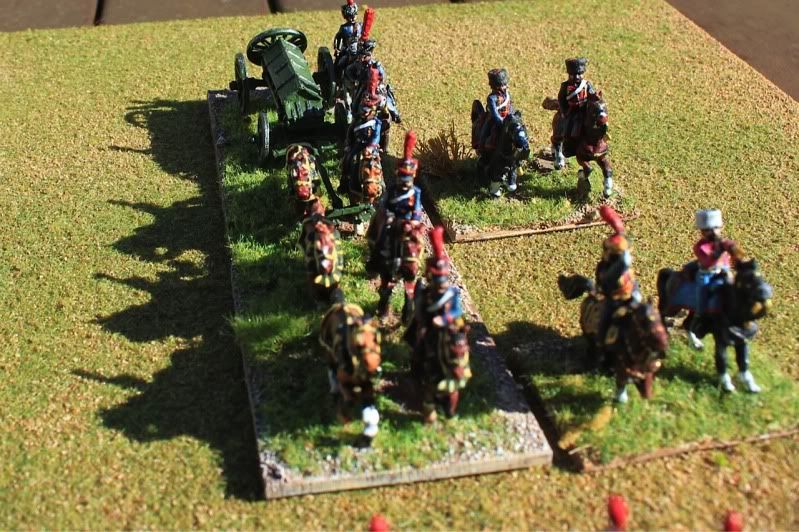 Despite having a largish AB collection, and having the Napoleon staff set sitting in the lead pile for a few years, it has never seemed the right time to paint this up. Now as I get towards the end of a large project to compete the Guard, it seemed opportune to put this together. I have already done the Davout, Lannes, Ney, Lasalle, Soult and Murat command bases (the latter two provided by OG, Murat in his 1812 garb) and I try to make them populated by the right number of aides, hangers-on and escorts. Essentially it would be the petit quartier general or small headquarters that formed the Emperor's immediate entourage, with a much larger staff to follow along with the four duty squadrons.
The base size was an important issue. It had to be big enough to stand out and fit enough figures on, but still suitable for the table. This isn't a vignette for the cover of a magazine or the like, it needed to be practical (or at least just on the edge of practicality). I picked out an old GW oval base which means I could put Napoleon towards the front of the base with the chasseur escort.
For the big man himself, there were some choices to make about whom to put with him. I didn't want to duplicate any of the personalities above. I started with the standard AB set: Napoleon, Constant, Duroc, Roustam, the two Guard Chasseurs and the two officers d ordnance
http://eurekamin.com.au/product_info.ph ... cts_id=860
There was a key personality missing from this lot - Berthier. I am not sure why Tony missed him in the set, but it wasnt hard to fix. Take one of the marshals and persuade someone far cleverer than me to work his magic on it! The only real thing missing was the aiguillette and the awards on his coat, so a friend added that for me. The figure I picked was suitably formal to start with, and I pondered about a sash, but found plenty of Berthier figures in this dress to leave it at that.
Once I had Berthier, I couldn't leave him without at least one ADC. So after consulting Elting, Bucquoy, Soldat Napoleones and the various Ospreys on Napoleon's Commanders and HQ, I settled on the ADC in hussar dress from the AB set
http://eurekamin.com.au/product_info.ph ... cts_id=436
In fact it was this picture of this set that convinced that I had to start painting AB Napoleonics. I am still determined to try to do an ADC figure in that lovely pinkish crimson as Tony Barton achieved below.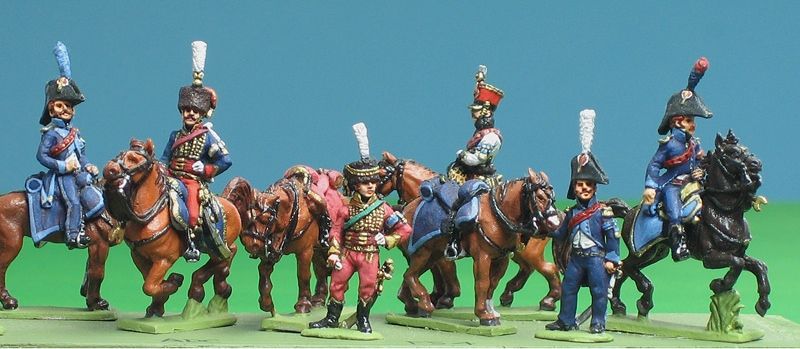 AB ADC set as painted by Tony Barton courtesy of Eureka Miniatures
Next was someone to command the two chasseurs comprising the escort. I originally used the AB hussar officer (IFC13) with a head swap, but whilst that chap is suitably arrogant, he has a drawn sabre and I cant imagine anyone drawing their weapon in the Emperor's presence without good reason. A better alternative was the British RHA officer (BA09) who has a suitably composed stance. A head swap with a spare elite chasseur produced a suitable head.
Hanging around the back of the base is an ADC painted as a marshal's ADC, having arrived from his master with some dire news or pleading for more troops. Again he is from the ADC set.
Lastly is an Imperial Guard engineer officer, converted from an infantry officer in greatcoat by adding a lancer head and plume.
So here you have the completed base: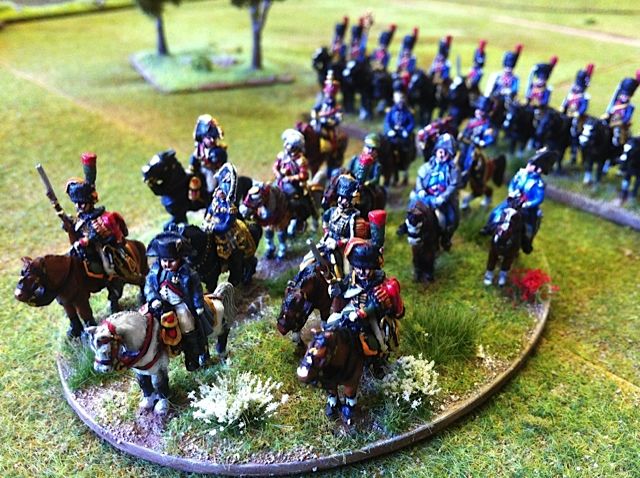 At the rear are the two squadrons of the Gendarmes d' Elite, using the Grenadiers a Cheval AB figures, The only thing they lack is the visor attached to the bearskin, but if you wont tell anyone, I wont