Yesterday 20th my club chairman Kev, my kid Jack, Derek and Paul fought a fantastic SYW game with 'Die Kriegskunst' set of rules. I umpired and took a minor role later.
The scenario is based very loosely on Fontenoy and based (loosely again) from CS Grant's Scenarios book. The Russians need to occupy two of three objectives.
Kev and Jack begin their opening bombardment.
20 Line Dragoons and 24 Veteran 'Black' Hussars
Two brigades of Russian cavalry. 12 Line Horse Grenadiers and 12 Line Cuirassiers in the front line. 16 Garrison Hussars and 16 Garrison Dragoons all on Inferior horses
C-in-C close by. The opening bombardment proves pointless with only one round for the Russians. The Prussian fire three times causing casualties on the Russian infantry adjacent to the Russian held village.
As the cavalry ease forward the extreme left two regiments of Prussian infantry leave their redoubt and cross behind the screening cavalry.
Having left their redoubt the Prussian infantry occupy village A instead. The occupying force are Frei-Infanterie and a line battalion, both Garrison.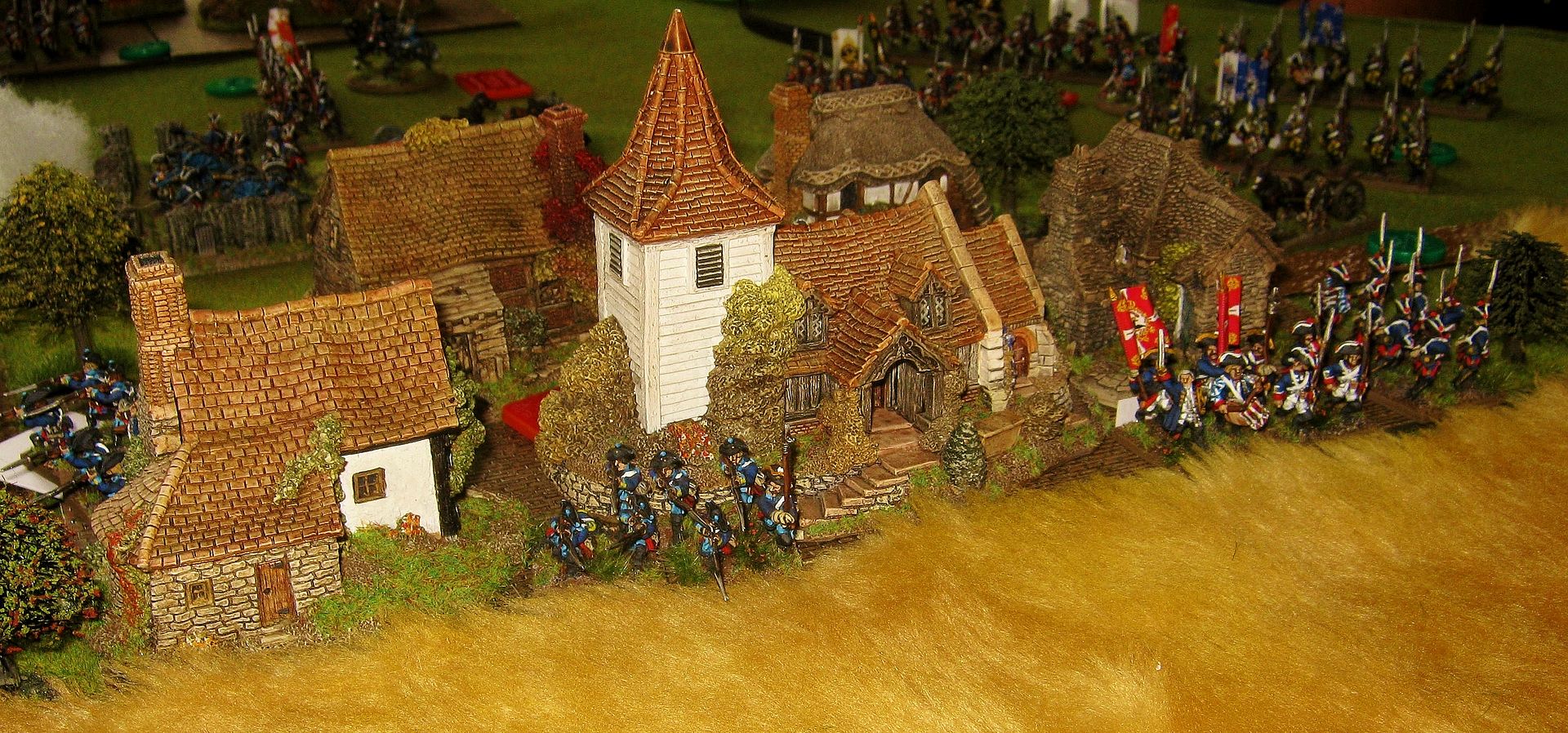 Two Veteran Fusilier, and two Line Musketeer battalions. All 16 figures strong.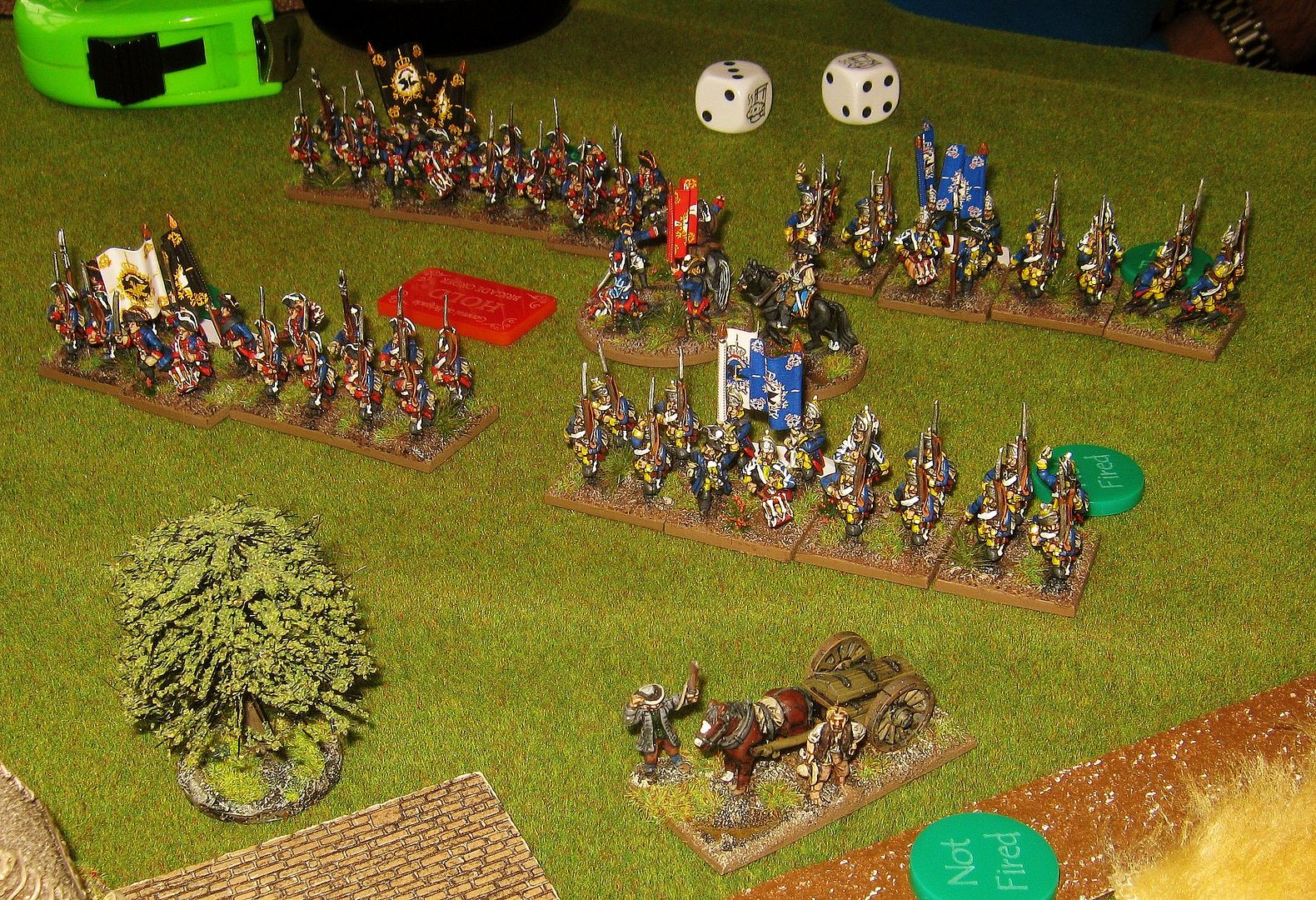 Finally after getting their orders the Russian infantry of their right/Prussian left advance. They are to occupy the now abandoned objective C.
Two 8lb guns and supporting infantry. A strong position.
Prussian C-in-C decides to split his brigade of infantry in two by using one of his three Adjutants.
Cuirassiers and Horse Grenadiers face off against the advancing Prussian cavalry whilst Hussars and Dragoons try to outflank them.
A furious melee as both sides contact. The Horse Grenaiers are defeated and retreat suffering 1 per 4 casualties = 6 casualties. 50% in one turn....gone!
Russian Cuirassiers and Prussian Dragoons contact. Jack throws a double six for the Russians. The Prussians lose their Colour are defeated and the Prussian General is unhorsed.
Russian infantry advance to their objective. Two Veteran Grenadier and two Line Musketeer battalions, all 16 figures strong.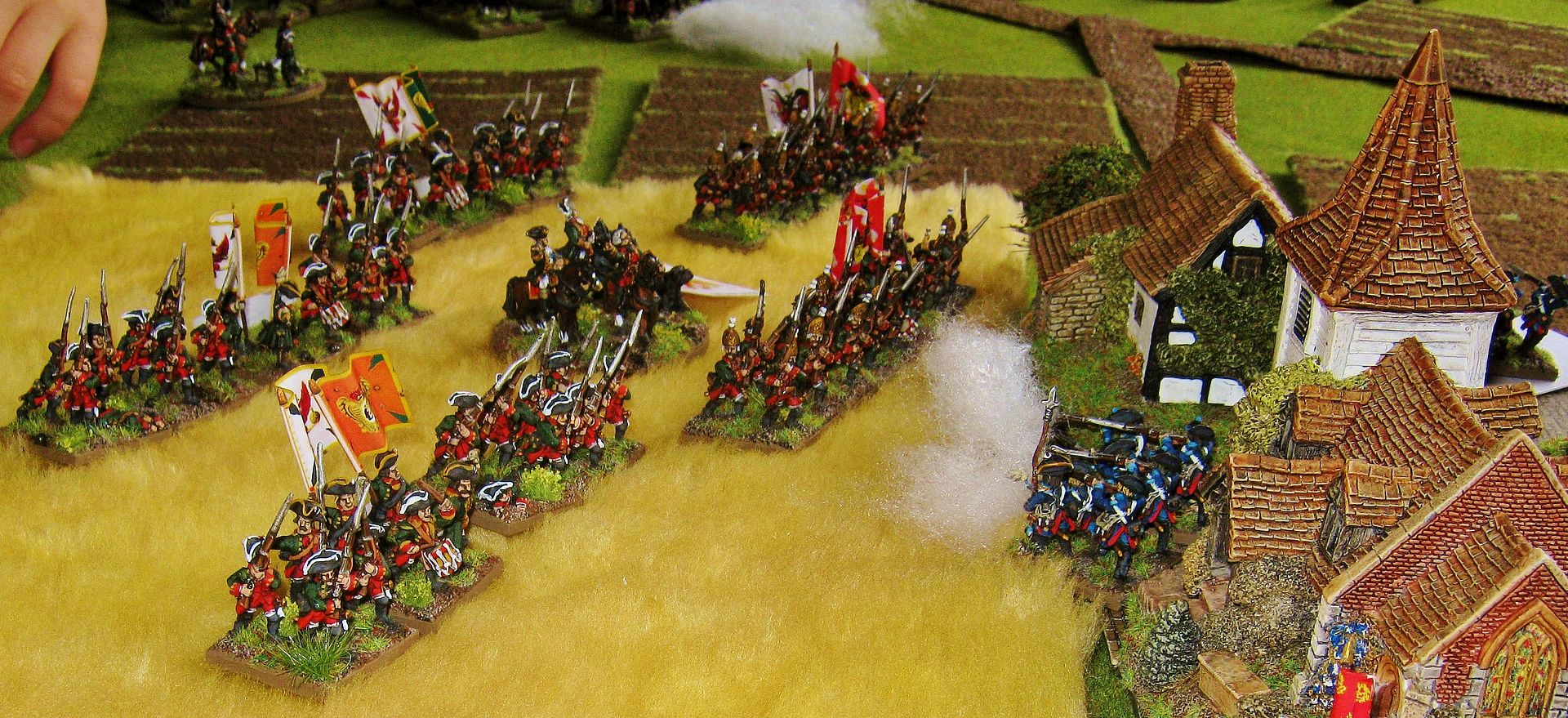 Jack's Russian Cuirassiers over pursue their defeated dragoon opponents.
Musketry breaks out around village A.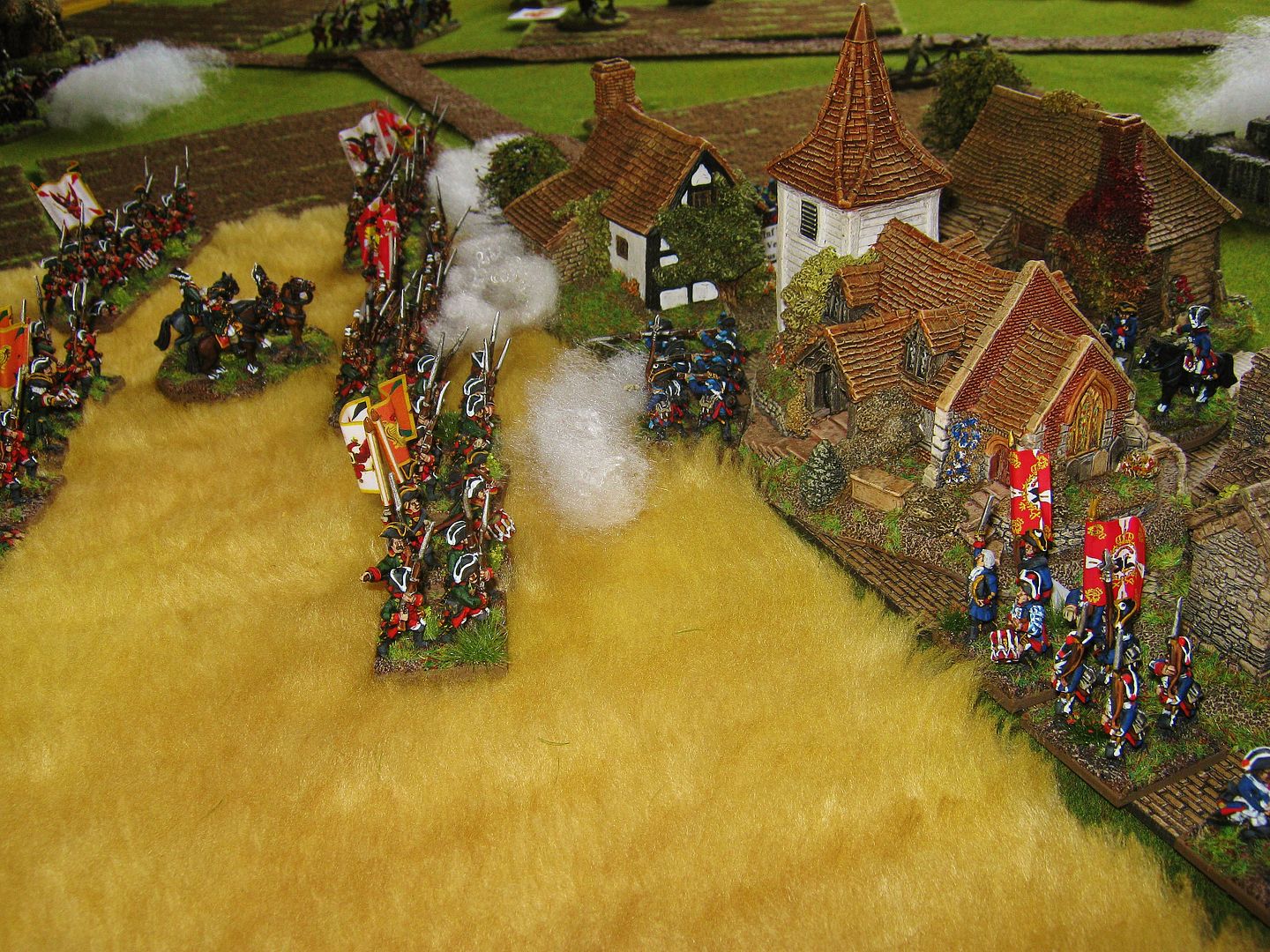 COSSACKS!....Any unmodified DOUBLE scored on the Russian player's roll for initiative at the turn start sees the possibility of further Cossack reinforcements arriving. A further score of 5 or 6 is required for the cossacks to arrive. If they fail then the next attempt is made if/when the Russian player rolls another unmodified double on his initiative roll. If they arrive successfully the cossacks are placed on the eastern table edge, just in the woods in column of Companies/Troops, on approach orders. Prussians have a similar mechanism but require a one or two rolled after a double for initiative. Derek rolled five doubles but nothing less than a three.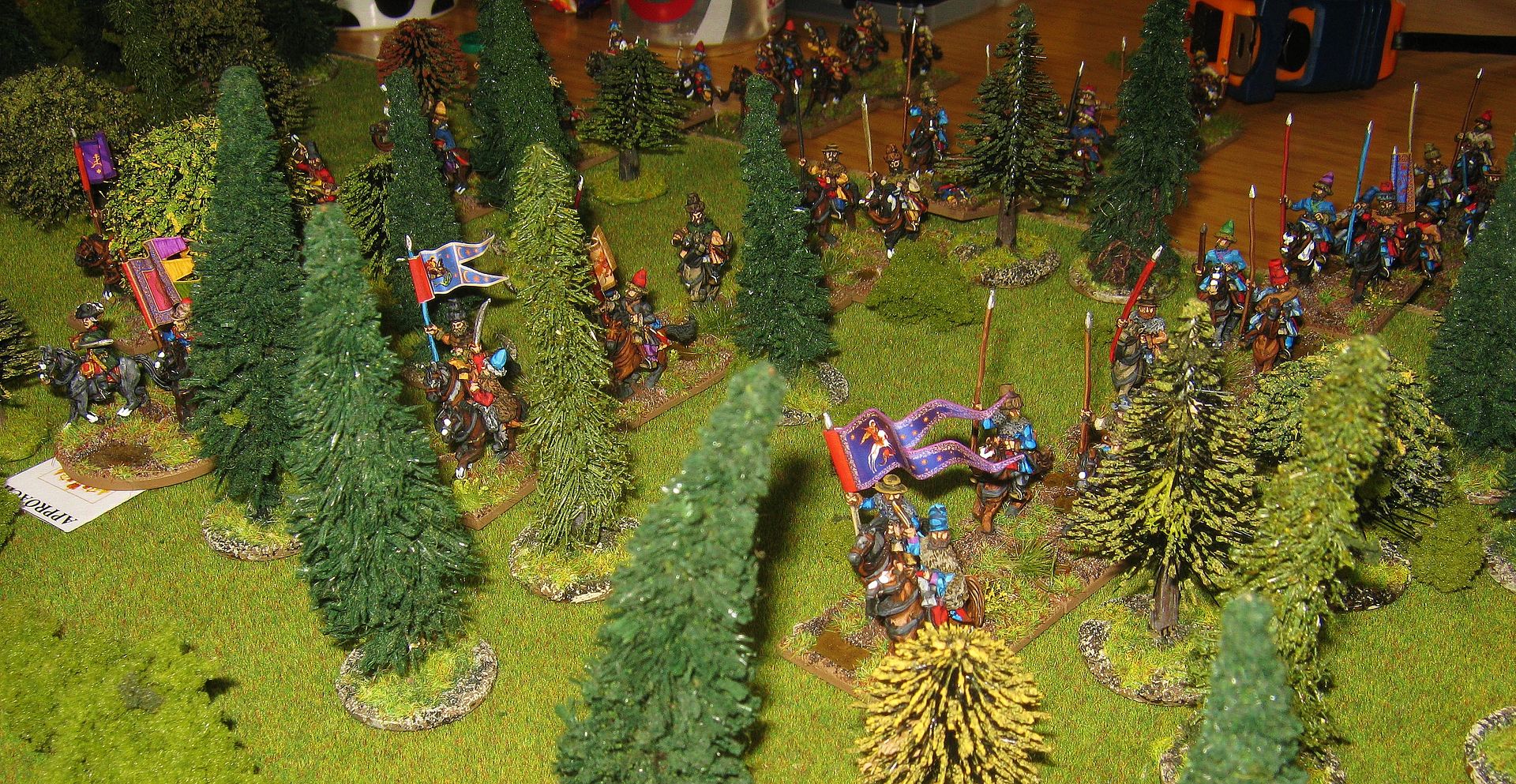 A draw ensues as the Prussian and Russian Hussars engage. The Russians are very inferior but punch well above their weight as Del rolls low and Jack high.
After waiting for ages for an Assault Order the Russians roll for their own order change and now Retire as panic ensues. Typical.
Cossacks, Cossacks.....COSS....ACKS!
Jack needs a ten for the Cossacks to change their own orders. Jack rolls an 11. The Cossacks are now on engage and begin to move towards the flank of the engaged Prussian Hussars. You couldn't write this shit.
The Russians manage to stop their retire and assault the village. Derek's Frei-Infanterie cannot stand and are forced to retreat. Half of the village is in Russian hands with redoubt C on the Prussian extreme left also in Russian hands. The Russians need to objectives to win. It is touch and go who will win.
The Russian cavalry brigades on their right are forced to retreat. However the Cossacks are poised to attack the flank of the unformed Prussian Hussars. Here we go again.....but no.....time has run out. Objective C is in Russian hands. One last attack on the Prussian half of objective A and the victors plaudits will go to Kev and Jack. Derek rolls 3 in melee. Jack needs to roll anything but a 2 or 3. Jack rolls SNAKE EYES on the last roll of the game. A DRAW! Fantastic tense game packed with drama but very enjoyable to witness and participate in.
Cheers,
Kev